DLF Social
and Wellness Activities
Are you looking to get to know your fellow conference attendees, fit in some movement, or check out local attractions while you're at the conference? The 2023 DLF Community Committee has you covered with a variety of social and wellness activities to help you get to know other attendees in a more relaxed setting!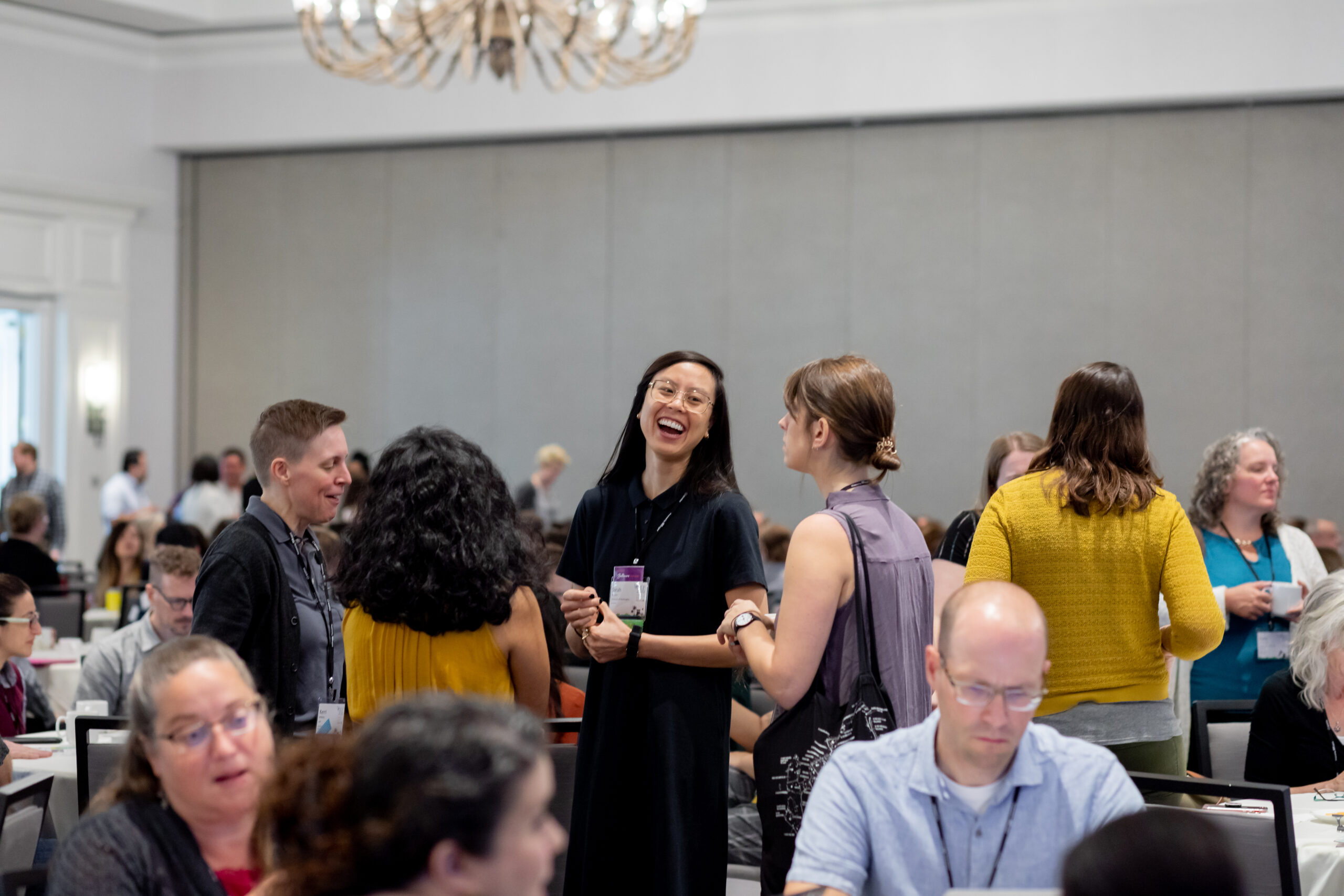 All times listed in Central Standard Time. Click any event to view it on Sched.
In town early for the DLF Forum? Join a group of other earlybirds for a pleasant afternoon walk. This group walk will begin in the conference hotel lobby and will allow participants to see many works of public art and other points of interest in the downtown area, including Citypark Stadium, Citygarden Sculpture Park, and the Old Courthouse. The walk will end at the St. Louis Arch grounds, where folks can grab a cup of coffee at the café in the visitor center of the Gateway Arch and hang out if desired. The walk length is approximately 1.5 miles one way.

Meet at hotel lobby at 1:50pm for a 2pm departure.
First time at DLF or have not been to DLF in a while? The Newcomers' coffee break, taking place on Monday, November 13, at 10:30am, is a chance to meet others who are new-ish attendees. Come learn and share with others about your work, your favorite styles of coffee, color a bookmark, and maybe connect with a new conference buddy or future collaborator! And of course, have coffee (or other beverage if you don't like coffee).
Join us for some crafts and chit chat! Bring along any current project you're working on, or put something together using craft materials provided and enjoy a little creative time during the conference break!
On Tuesday, November 14, at 11am, there will be a coffee break dedicating time for mentors and mentees to meet and catch-up. This can be a great time ask questions, share experiences, and learn how you each take your coffee.
Meet new people and explore St. Louis by participating in one of these dinners. Small group reservations (~8-10 people) have been made at our Local Committee's favorite restaurants around the city. This is a fun and intimate way to get to know your fellow Forum-goers (and everyone pays for their own meal!)
Put your name and email address down in advance here to attend a planned dine-around, or lead your own.
Thanks to the DLF Community Committee for arranging this evening!
Sign up here: https://docs.google.com/spreadsheets/d/141RvCS4XZDe5eg81DU3BCPDG_DUcLleaoOAP9AoGDJo/edit?usp=sharing
Take some time for yourself on the last day of DLF Forum in this meditation break, which will feature a couple of mindfulness activities and a body scan exercise.
After the DLF Forum wraps up, enjoy a free tour at Washington University in St. Louis's John M. Olin Library. Meet in the hotel lobby at 1:50pm for a 2pm departure, tour begins on campus at 3pm. Tour leader Walter Schlect will help attendees get from the hotel to campus. RSVP to forum@diglib.org if you plan to attend. Space is limited to 15 participants.
The tour will last approximately one hour and will visit the Library's Data Services Department, highlights from the Department of Special Collections, and the current special exhibitions. 
Stop 1: Olin Library's Data Services Department – overview of equipment with a specific focus on the 3D imaging they have been doing. Here is information about the project to be highlighted.
Stop 2: Highlights from Olin's Department of Special Collections, including a variety of materials across their 7 collecting areas: Rare Books, Modern Literature, Illustration, Film & Media, Local History, Sports and Culture, and University Archives. Olin's Digitization Manager will also be available during this time to discuss particularly challenging or interesting digitization projects he's overseen with these collections. 
Stop 3: Tour of Library Exhibitions – this would just be a brief overview of the different spaces and then attendees are free to spend as much time as desired viewing the materials – or returning to the library on their own to spend more time viewing them. Here is the info on Wash U's current and upcoming exhibitions.